On of the most helpful things our customers can do for us is to leave us reviews online. This helps us tremendously in terms of people finding our agency online when they search for a local agent.
If you have a moment, we would be extremely grateful if you could leave us a review on our Google Plus local page.
Here are some instructions that will show you exactly how to do it:
Step 1: Open Google and search for the phrase "prosper insurance san diego"
Step 2: Click on the "Write your review" button to leave your review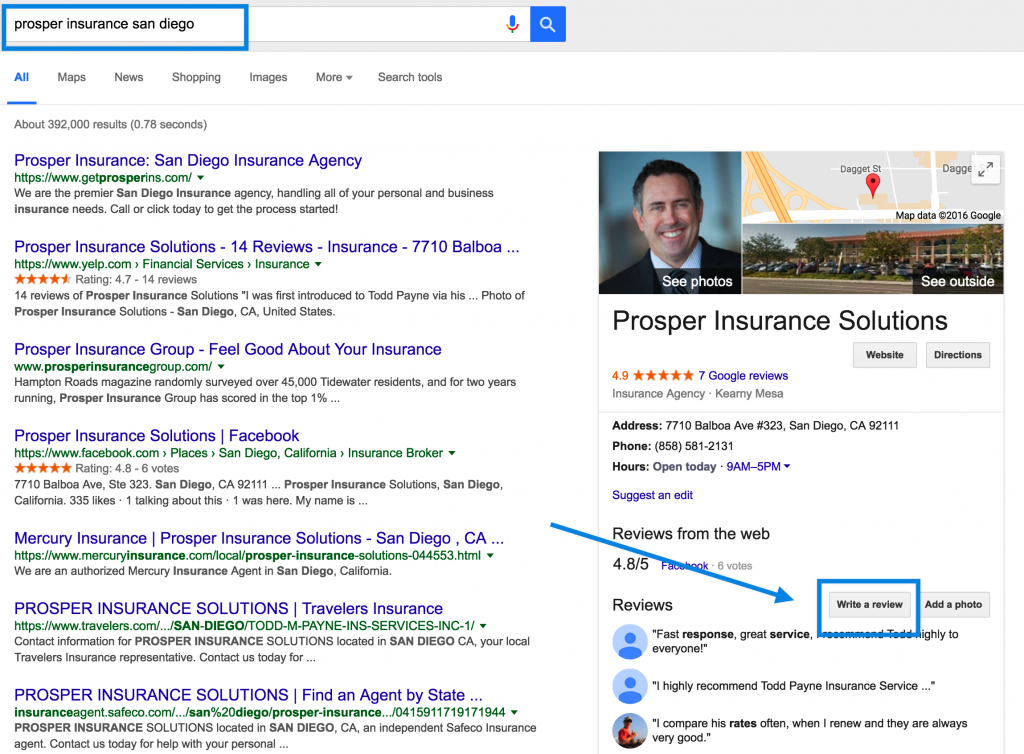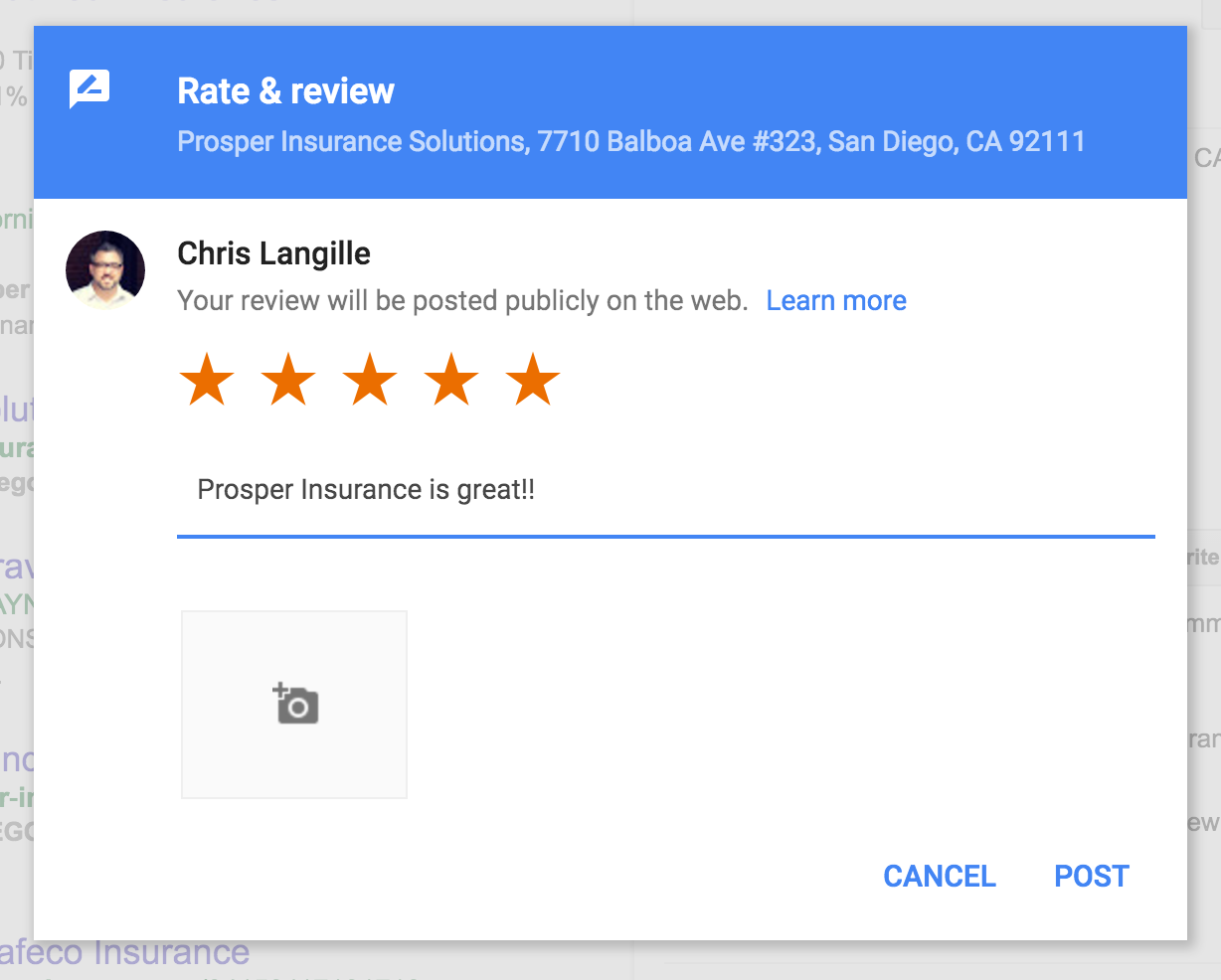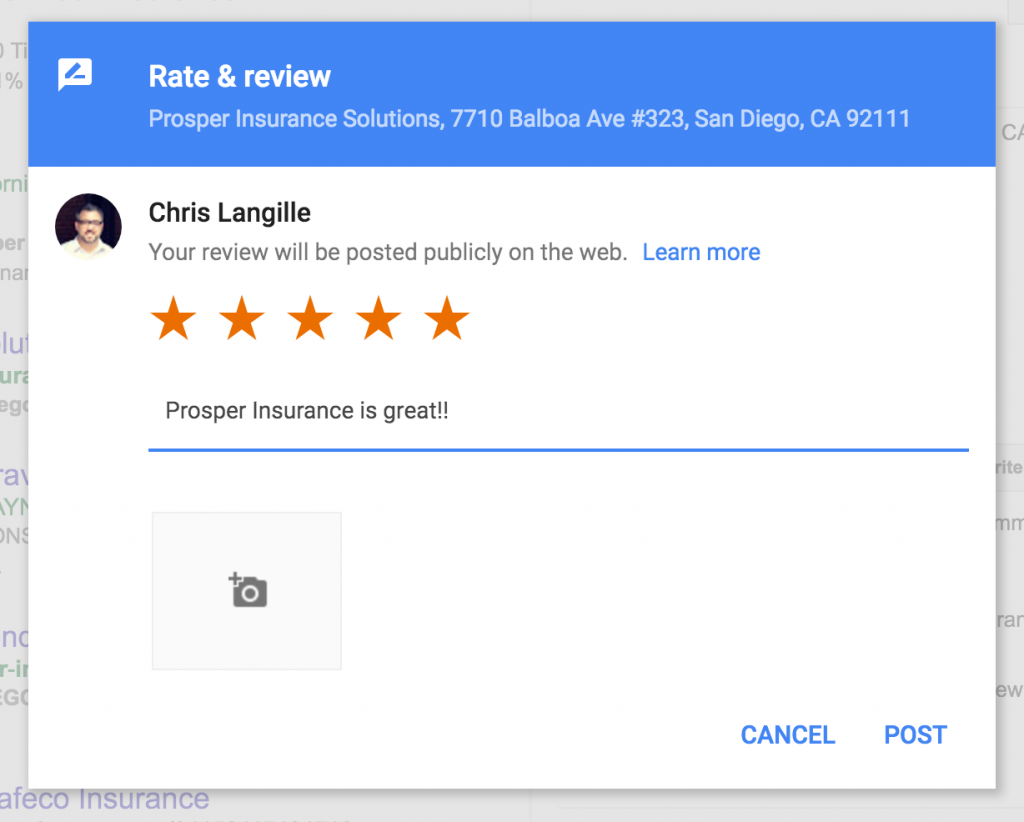 Here are some of the reviews people recently left for us!
Todd is the MAN! Quick and reliable; he answered all of my questions about my transferring my long-term State Farm auto and renters policies over when I was ready to make the switch – it was fast & easy! With every twist of life that occurred from the original policy binder – in less than 4 months: a new vehicle, getting married – changing my name and adding my husband to the policy AND moving!?! Todd didn't miss a beat – and even though he was on out of office on vacation – someone from his office replied to my email right away to help! So grateful to have Todd & the Prosper Insurance Solutions team on my side!  – Rachel F. in Irvine, CA
We have had the pleasure of doing business with Todd Payne for over 20 years. He is the total package…great service, kind and thoughtful and very knowledgeable. From car insurance to renters insurance…he makes it easy. Plus he is genuinely nice and helpful. In a word, he cares, He has always put our family's insurance needs first. We would recommend Todd to anyone looking for an honest, fair and thorough agent.  – Richard S. in La Jolla, CA
Todd Payne/Prosper Insurance Solutions are great! I've never had an insurance agent before (just got insurance online, etc.), and now I see the value in having an agent. Whenever we have a question about our bill (homeowner's and auto is what we have), they are just a quick phone call or email away and are always prompt, helpful, and friendly. They answer every question and are very knowledgeable. Highly recommend.  – Becca H. in Encinitas, CA

I have been using Todd for my insurance needs over the past 10 years now. During this time I have bought and sold 3 houses and have used Todd's services and expertise through all of the required insurance transactions. Todd is quite knowledgeable about all things insurance. He always reviews my policy and looks for ways to further protect my assets while maximizing my savings. I highly recommend Todd Payne Insurance Service … Thanks Todd.  – Eric L. in Temecula, CA